The Paris region welcomed between May 28th and July 29th 2019 the production of Fox Hunt, an action movie taking place both in Shanghai and in the Paris region. the film is released in China on january 8, 2021.
Synopsis
Directed by Leo ZHANG and produced by Shanghai Film Group, the film takes us back to the heart of Operation Fox Hunt, a Chinese initiative to fight corruption. The Chinese authorities, in order to avoid the leak of important information, have engaged a major repatriation campaign of Chinese nationals who have fled their country.
Filming
The shooting took place in several symbolic locations of the Paris region including the two airports (Orly and Charles-de-Gaulle), and the Paris heliport, the Seine River, the metro, the pedestrian Carrousel bridge, the Gare de l'Est (train station). This was in addition to several streets and "passages", city roofs, cafes and shops, the Flea market, a golf course, a chateau on the outskirt of the city, and more.
Actors include Chinese Duan Yihong and Tony Leung (Chiu Wai), as well as two French actors, José Garcia and Olivier Rabourdin.
The 100 member Chinese team was supported by 50 French technicians, most of whom work regularly on international projects.
Local production was under Fanny Besson; the general unit manager was François Pulliat and the assistant director David Krespine. A dedicated unit manager, Sebastien Didelot, was hired for the numerous stunts.
The production shot in the TSF Backlot 217, a former airbase. It provides a 22 hectares of flat land around 2 landing runways along with 45 000 square feet of former hangars now transformed into a carpentry and set building making it a perfect work site for international productions.
The soundtrack of Nathaniel Mélachy's film was recorded at the Seine Musicale in the Paris region, with 54 musicians. According to the director of the Studio, there had not been such a large orchestral recording since "Valerian" written by Alexandre Desplat.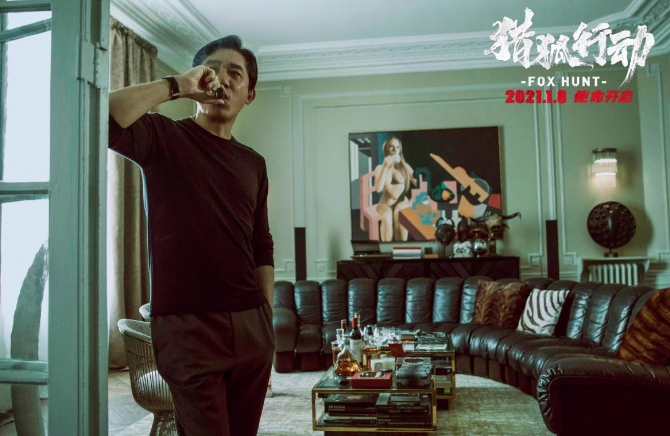 Fox Hunt - Parisian apartment
© Crédit : Shanghai Film Group
Fox Hunt - Cafe
© Crédit : Shanghai Film Group
Fox Hunt - Seine Musicale
© Crédit : Shanghai Film Group
Fox Hunt
© Crédit : Shanghai Film Group